Course 17: Kidney Support to Prevent Disease and Kidney Stones with Foot Reflexology Video and E-book $75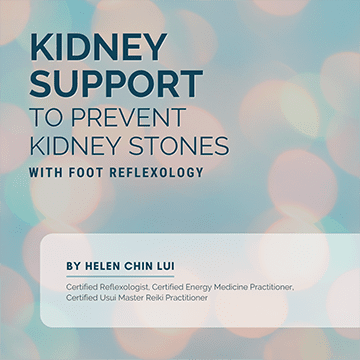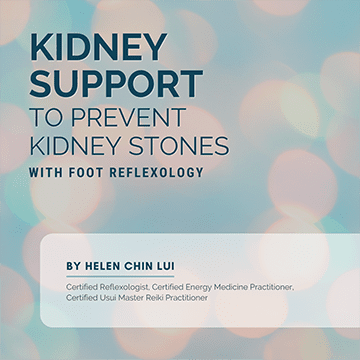 Holistic Kidney Health with Foot Reflexology
Who is Affected by Kidney Disease?
One out of ten Americans over the age of 20 have evidence of kidney disease. Some forms of kidney disease are progressive and can worsen as the kidneys fail and produce toxic waste buildup. You can proactively support your kidney functions with Reflexology.  
What Do Your Kidneys Do 24-7? 
The urinary system contains the kidneys, bladder ureters, and urethra. These organs work together to create, store and eliminate urine waste from the blood while regulating blood volume and blood pressure. Your kidneys also regulate metabolism and blood Ph. Kidney's primary function is to filter liquid waste and pass it out of the body through urine.
How Does Reflexology Support Kidney Functions? 
Reflexology is a science and an art. Reflex points located on the feet, hands, and ears represent the body in miniature. The nerve pathways in each foot create an electrochemical flow that communicates with the central nervous system encourages the body to relax and release toxins. The principle of Reflexology is that all reflex points, meridian pathways, and chakra regions are connected to specific organs, glands, and body functions. Reflexology promotes the elimination of stress and reinforces the body's ability to stay healthy and vital. This preventative modality encourages wellness through relaxation and supports all body functions.
Video Course includes:
Reflexology Foot Map

Step by Step Foot Reflexology to Support Kidneys to Support Health and Prevent Kidney Stones (23:23 minutes)

An extensive illustrated, downloadable, PDF, E-book 
 Few Reflexology Benefits:
A feeling of deep calmness. Relaxation and rejuvenation.

Promotes homeostasis – balances the normalization of all body systems

Promotes circulation and encourages the removal of toxins

Reduces stress and promotes deep relaxation

Increases the sense of well-being
Disclaimer
Reflexology does not replace traditional medicine. (Please check with your doctor if you have any concerns.) Reflexology can help achieve good health. However, you still have to do your part by maintaining good health through a healthy diet, exercising, recognizing your stress triggers, and minimizing or eliminating destructive behaviors.
Cost: $75 – Unlimited Access from one year of purchase. Watch as many times as desired.
Instructor: Helen Chin Lui, Certified Reflexologist